Definition – Sort of…
"Mind-catching" is not [or not yet] in any American/English dictionary. We have "eye-catching," "mind-altering," or "mind-reading" but not "mind-catching." Although the term is fabricated, it is pretty self-explanatory.
Mind-catching design is more like a motto to me. That is, design is more than eye-catching; it's about mind-catching. While eye-catching implies beauty, mind-catching means beauty + memorable and powerful content in a complete package. While eye-catching may lean toward creativity in general, mind-catching is more about strategic creativity.
A mind-catching design can catch its target audience's attention, possibly stay in their minds, and later may even alter their [buying] behaviors or decision making process. In other words, a mind-catching design no matter what it is – a web page, an ad, or a sales sheet – has in itself all elements of AIDA. It can attract Attention, create Interest, arouse Desire, and solicit Action from the target audience.
Mind-catching = Eye-catching + Strategically Powerful Message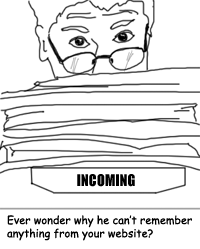 What distinguishes mind-catching from eye-catching is the strategically powerful message. The power of the message lie both in the verbiage itself and in the visual factors of how the message is presented such as the type face, colors, text or image position/direction in relation to other elements, negative and positive spaces of the whole design, images used…Without the strategically powerful message, your target audience may look but don't see, and even if they see the design, they'll be more likely to forget it in a few minutes later.
"Why?" Simply because we are now living in an overcommunication environment; everybody is being bombarded consciously or sub-consciously with all types of information from random to targeted infomercials, news, emails, phone calls, communications at work, schools, or at homes… The brain itself tends to be overloaded; as a result, to help it get back to its equilibrium, the brain and thus your eyes learn to filter extraneous information out. Consequently, lots of times we look but don't really see, and we see but don't really remember.
Strategically powerful message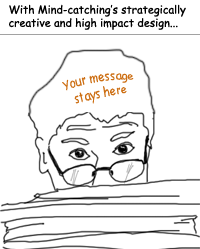 Just having a great product doesn't guarantee success for your business. The question is how you're going to communicate your product features and benefits to your prospects; how you're going to differentiate your product from and position it against your competitors'.
Similarly, just having a great content or great design for your website doesn't guarantee your site will sell. The question is how you're going to present your great content and develop/code it into a website that will call for more actions from your target audience and be search-engine friendly at the same time.
Mind-catching Design will work with you all the way from the beginning to the completion of the project or even after that with its overall competitive analysis and detailed search engine analysis to make sure that your web design or graphic design works will have the high impact strategically powerful messages, will stand out from the competition, and will sell.
---
Here are two business card design projects for clients in San Jose. Both cards have a touch of Asian flavor. The first one is for a Craft Designer, and the second one is for an Interior Designer.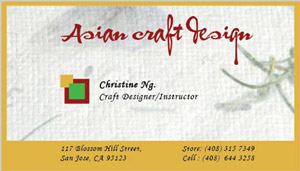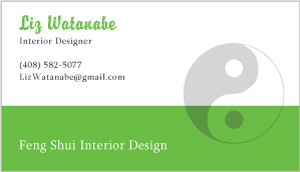 ---
What is web hosting? Do I need a web hosting service for my website?
Here's an analogy: a website is like a cell phone, and a web hosting company is a like a cellular carrier. Without buying the service from a carrier, your cell phone is pretty much of no use. The same is for a website, without a web hosting service, your website is useless because it's not online, and thus nobody can access it. Most mid-size and big businesses, with plenty of resources, can buy [and maintain] equipment and host their websites themselves. For small businesses, it probably makes more sense to buy a hosting package from a web hosting provider with a monthly, quarterly or yearly fee.
Web hosting, simply put, is moving your website onto a server so that people can access it through the Internet. A server is just a computer on a network that stores information, data, applications for using/sharing among users.
To bring your web site live, in most cases you need a web hosting provider. This is a company who rents or gives out a part of their own servers to those who wish to publish a website like you. You can design and view your web page on your computer with a browser, but for others to see your site on the Internet, you usually need to use a web hosting company.
Choosing the right/reliable web hosting provider is important as their servers store your information. Therefore, anything goes wrong with the hosting provider or their servers will likely affect your website, your [confidential] data and your business. I've had a chance to use different web hosting companies, and here is a list of recommended web hosting providers for your reference. Those companies have been in business for years and are serving clients worldwide.
---
Revised in August 2010
As a business owner, especially a small business owner, you may have asked whether your business needs a website considering the cost for having one. Here are some pros and cons of having a website.
Pros:
A well designed website will save you time and money. Your website will be always available online even after hours, so you/your staff won't have to answer the phone as frequently because now people have another way of getting the information they need about your business: through your website. Even better, you can reduce or even eliminate the cost for printing and distributing hand-outs, brochures, newsletter… All are already available online and ready for printing at any time.
A well designed website will help you sell more. The website can become a powerful visual aid for your business and a knowledgeable, convincing and tireless virtual salesperson who will always be there when your clients want more information to make the buying decision.
A well designed website will be a powerful tool that helps spreading electronic word of mouth for you business. Traditionally, word of mouth always count for a lot. With today's web technology, online sharing and social bookmarking have made word of mouth more viral than ever. If people find your business trustworthy, they'll possibly share it with their friends on Yelp, Facebook, LinkedIn or on their personal blogs. The sharing can be go on and on and on. Without a website, you'll miss all of these opportunities.
A well designed website will make your business appear more professional and more trustworthy before your potential customers because you've had a business phone number, a fax number and now a website and an email address from your own domain name – yourname@yourbusiness.com.
Last but never least, with a website, your business can be listed in various online directories including the mega web directories of Google, Yahoo! and Bing and other business-specific online directories. For your customers, these are like on-demand phone books that will come in handy and can never be tossed away.
Cons:
Your website comes at a price ranging from a couple of hundreds to thousands of dollars depending on how complicated the site will be. See below for more information about the costs of having a website.
If poorly designed/developed, you site won't work very well with your users and search engines. Thus, you will possibly get only a few leads from the website – not enough to compensate for the costs. Thus, what you need is not only a website, but a well designed/developed website.
---
My prospects/clients always ask how long it'll take me to complete designing and coding a website. The answer is it depends. If you have all of the final content ready, it can take me as little as one week to design, code and launch your website. If you don't have any content yet, I can't say for sure…
Here are some points you can do to help make our jobs easier and launch your new site sooner.
Let me know a couple of websites that you like [and don't like] so that I know more about your taste and what you have in mind for your future site. A rough sketch of the site will be much helpful.
Let me know your preferred color palette. Many times my clients have left that decision to me; however, if you want orange and blue for your site, let me know, and we can take a lot of guesswork out of the way.
Prepare all final text content in an email or a document and send it to me. This won't be easy at all. In fact, preparing final as opposed to temporary or placeholder text content is the most time-consuming part in the process.
Prepare all images to be used for the project. I can show you where to buy professionally taken photos if you want. Remember, people may judge the quality of your products and services through the quality of your website, so low quality imagery just won't work.
---
Generally, there're two types of costs: one-time cost, and recurring cost. Most people are aware of the one-time development cost but not aware of the recurring cost.

One-time cost is mainly for the web design/development. This may include the cost for designing logo, banners, developing flash interactive content and acquiring images.
Recurring cost – or periodical cost is the cost for [1] maintainng the website [if you hire someone to maintain the site for you]; [2] paying for your domain name; [3] and paying for your web hosting company.

If you can update the website yourself, you don't have to pay for [1]. However, I can always help you update your website periodically or on a project-by-project basis. Contact me for more details.

As for [2] and [3] – paying for your domain name and web hosting services, here's the ballpark figure for your reference: a ".com" domain name would cost you about $10-$20/year, and a decent professional web hosting package would cost you about $70-$150/year. If you want an e-commerce website, you would have to pay more for a static IP address and/or other web security related costs. These are the fees charged by the Domain Name and Web Hosting Providers, not by Mind-Catching.

You can either pay for [2] and [3] yourself, or you can come to me for managing your domain and hosting services with lower cost than you would pay for web hosting company yourself. Just don't forget that if these fees are not duly paid, both your domain name and web hosting services are to be expired, and your website won't be active anymore.
---
People have asked me all the times, "what is the cost of a typical website?"
Well, the typical answer is there's no such thing as a typical website. Like cars, you can buy a brand new economical sedan for under $10,000 or a luxury one over $100,000. It all depends on your needs and wants and of course your budget.
However, here's the ball-park again for your reference. If your website is a non-ecommerce site [with no shopping cart], doesn't require a database to hold registered user information, and has about 3-8 pages, the cost would range from $400 – $2,000 or even more. [You still have to pay about $100-$150 every year for your domain and web hosting services]. Why the difference?
It all comes down to the time and skills involved in doing your site. If your site is simple, and you are very clear about what you want in terms of content and design layout, you'll save me time, thus you'll save yourself money. If you want a more complex website layout, more complex web graphics and functionality, or you want to have follow-up search engine services, you'll have to pay more.
---
Below is the overall break-down of work for a web design project. To make it simple, I always compare the process of building a website with building a house: [1] uncovering your needs and wants such as whether you want one or two stories, 3 or 4 bedrooms, an entertainment area, a big back yard or a pool…; [2] drawing the layout to turn [random, organized or unorganized] ideas into diagrams; [3] starting the construction by follwing the drawn layout and standard methods; [4] finishing; [5] maintaining
Project Analysis: uncovering and understanding your business, your clients/target audience, and your competitors; establishing the goals/objectives for the web design project; researching keywords / key phrases used for the text content; identifying the number of pages and content you should have on the site.
Web Design: creating the wireframe/site architecture of your website; designing the graphic mock-up of your home page and a secondary page if your secondary pages have a different layout from the home page. All is done in light of the previously completed analysis. There's no coding involved so far. The final product after this stage will be an image of your web page which will be identical to the your actual finished website.
Web Development/Construction: developing/coding HTML/CSS mock-up from the graphic mock-up previously designed; testing download speeds and browser compatibilities; developing/coding the whole site and developing backend database if needed while optimizing content for search engines; testing everything again including emails, forms, database, and browser compatibilities.
Launching: Bringing the new website live; submitting the site to major search engines and possibly other online directories; keeping track of and analysing the site traffic to make timely adjustments if necessary. There may be two launching phases depending on how big and complicated your website is: soft launch – bringing everything live but not yet announcing it to the public; hard launch – announcing your newly designed/re-designed website through an email blast, letting your social network know about the site through your blog, adding your new website address to your business cards and other sales/business literatures…
Maintaining: We provide this service per your request. In addition to making text, graphic or other technical update for the website, we also give you a periodical performance report which summarizes your site ranking in major search engines, your keywords, key terms performance, your website traffic and visitor information… From this report, we can make additional adjustments so as to further improve your ranking in major search engines.
---
This was the first client project I had in Austin, TX. I moved here in 2007 then moved back to California about one and a half years later.
The special thing about this project is that the whole site was completed within… three days. I was not very proud of the design myself but was happy with the fact that the client liked the site and appreciated my ability to turn around very quickly. He needed a simple website to show to some distributors. I also showed him how to update the site with his web hosting package with Yahoo!.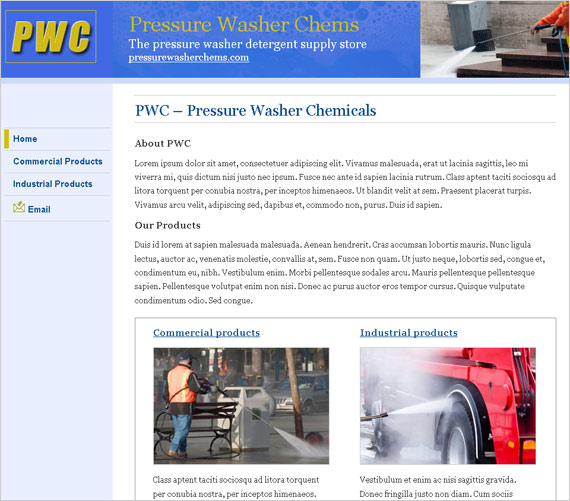 ---
This was the first time I re-designed and re-developed Radford website featuring the flash-based step-by-step service selection guide and also flash-based interactive location map and marketing key messages.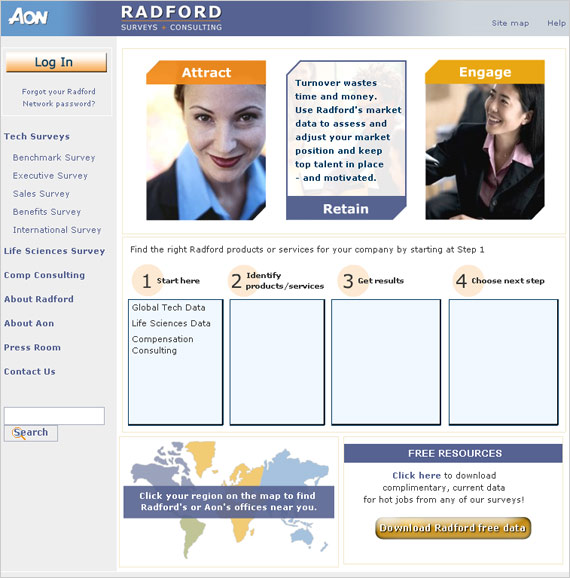 ---